Villamartin - rent a apartment or Rent a Villa in Villamartin Spain.
Selection of Villas and Apartments available for rent also hotels near
Villamartin
In the Villamartin plaza you will find everything you need from bars to shops to restaurants. The Plaza offers twenty international bars and restaurants, a bank, a medical centre, shops, a supermarket, and also a well stocked golf shop see below.
Villamartin plaza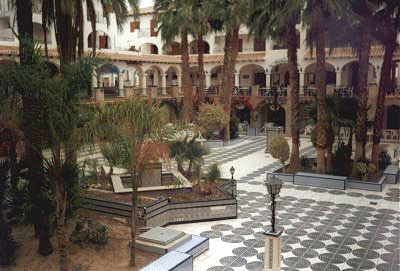 During the Summer evenings there is a variety of entertainment provided in the Plaza at Villamartin. Close by is the Clubhouse of Villamartin Golf Course where the bar and restaurant can be used even if you are not availing of the golf.
Because Villamartin is a golf complex there is plenty of choice where bars and restaurants are concerned. In the plaza you will find approximately 20 bars and restaurants, a bowling alley, a doctors, a mini market that sells that days foreign papers, two banks etc. The plaza is also located next to the golf course. There is also an aqua park in Torrevieja which is about 8 km's away.
Villamartin has many gardens, community pools and sports facililties. The real estate here is of excellent quality with marble floors and bathrooms as a rule.
The journey to the Airport of Alicante takes around 40 minutes from Villamartin. The splendid beaches of La Zenia and Cabo Roig are all approximately 5 minutes from Villamartin.
The golfer does not need to restrict themselves because there are 2 other Courses near Las Ramblas and Campoamor.
We have a selection of apartments and villas to rent in Villamartin For your next holiday in Villamartin Spain. Search Villamartin property rentals section for apartments and villas. Rent directly from owners and get better prices! Only self catering holidays in Villamartin apartments and villas!
Advertise Holiday apartments / villas to let in Villamartin for more details